Most Popular
Robots/ Cells
Great medium sized cell with servo table. As everything with the Performarc nameplate, it's rock solid and safe.
Stand alone robot with the Tawers built in welder. This welder is cutting edge, with a servo wire feeder and the main cpu of the welder mounted directly on the Robot main cpu. This allows the robot and the welder to work seamlessly during welding.
Thinking of getting into robots. This is a great starter cell. The cell footprint is small to fit into most small shops.
Panasonic Robot / Performarc Cell List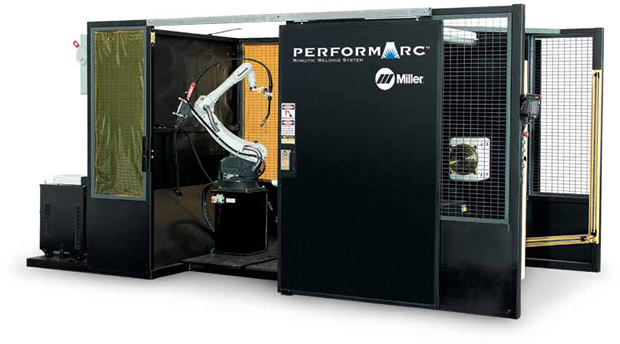 PRODUCT DETAILS

LINK
PA055 / PA250M

Small footprint. Great first cell for a customer new to robotics, or just an addition to your fleet. Entry level, so lowest starting price of all Performarcs. All on 1 welded frame; just drop it in with a forklift, add air and power, and you are ready to go.

Typical part sizes (in inches): 12 x 53, 18 x 45, 24 x 30

Brochure

PA102S / PA350S

Servo Table. Fast, safe and reliable. It takes 2.2 sec for the table to rotate. Less operator fatigue since the operator does not have to walk as far to load parts. The table is an additional 7th axis for the robot, so it's extremely reliable.

Typical part sizes (in inches): 12 x 53, 18 x 45, 24 x 30

Brochure

PA112S / PA750S

Similar to the machine above, except able to handle larger parts.

Typical part sizes (in inches): 12 x 87, 24 x 76, 36 x 53

Brochure

PA122S / PA550H

Similar to the PA112S / PA750S above. Instead of a flat table, now there are servo head and tailstocks on both sides.

Maximum part size (in inches): 34 x 48

Brochure

PA202S / PA1100SS

Servo Headstock and Tailstock on 2 sides. Can accomodate large parts. Operator loads on opposite side of the machine. These machines work well on large parts with long cycle times.

120 in. between faceplates, 44 in. turning diameter

Brochure

TA1000

Panasonic's smallest arm, but still has a decent reach. This arm comes as a TA1000G3, which is a stand alone unit that you can attach either a Panasonic welder or a Miller welder. The other option is a TA1000WG3, which has a Panasonic Tawers welder built into the controller. This adds a full servo feeder and allows for extreme control over your welding application.

Reach is 1068mm from base.

Brochure

TA1400

Panasonic's midsize arm. This arm comes as a TA1400G3 which is a stand alone unit that you can attach either a Panasonic welder or a Miller welder. The other option is a TA1400WG3, which has a Panasonic Tawers welder built into the controller. This adds a full servo feeder and allows for extreme control over your welding application.

Reach is 1374mm from base.

Brochure

TA1600

Panasoni'cs medium arm. This arm comes as a TA1600G3, which is a stand alone unit that you can attach either a Panasonic welder or a Miller welder. The other option is a TA1600WG3, which has Panasonic Tawers welder built into the controller. This adds a full servo feeder and allows for extreme control over your welding application.

Reach is 1598mm from base.

Brochure

TA1800

Panasonic's large arm. This arm comes as a TA1800G3, which is a stand alone unit that you can attach either a Panasonic welder or a Miller welder. The other option is a TA1800WG3, which has a Panasonic Tawers welder built into the controller. This adds a full servo feeder and allows for extreme control over your welding application.

Reach is 1796mm from base.

Brochure

TA1900

Panasonic's largest arm. This arm comes as a TA1900G3, which is a stand alone unit that you can attach either a Panasonic welder or a Miller welder. The other option is a TA1900WG3, which has a Panasonic Tawers welder built into the controller. This adds a full servo feeder and allows for extreme control over your welding application.

Reach is 1895mm from base.

Brochure